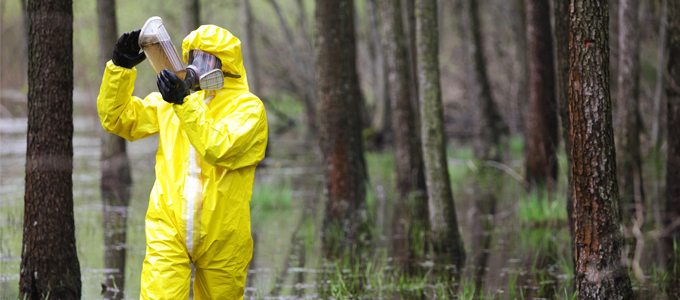 ABCO Supply carries a variety of safety and environmental personal protective equipment (PPE) for workers in the Kansas City, KS, region and beyond. We are pleased to provide the necessary PPE to keep you and your employees protected from hazardous materials such as asbestos, lead and mold.
Enlist the Protection of ABCO Supply
Ensure your workplace is as safe an environment as possible with disposable bags, gloves, air filtration, showers and more. For additional information about our PPE and safety and environmental products, please don't hesitate to contact ABCO Supply today at (913) 321-4100. We proudly serve the Kansas City, KS, metropolitan area.
Find Products
| | | | | |
| --- | --- | --- | --- | --- |
| Tyvek w/hood & boot, XXXL, 25/CS | tyvek | 10-1018XXXL | $175.00 | |
| Sleeve Protector, Tyvek, 18′, 200/case | saranex | 11-SLEEVE | $80.00 | |
| Polypro w/hood & boot 25/Case XXL | Suits | 12-1414 XXL | $29.50 | |
| Polypro w/h&b 25/CS XXL, Each | Polypro | 12-1414 XXLE | $2.50 | |
| Polypro w/hood & boot, XXXL, 25/CS | Polypro | 12-1414 XXXL | $29.50 | |
| Polypro w/h&b 25/CS XXXL, Each | saranex | 12-1414 XXXLE | $2.50 | |
| Polypro w/hood & boot, XXXXL, 25/CS | saranex | 12-1414 XXXXL | $33.50 | |
| Polypro w/h&b 25/CS XXXXL, Each | saranex | 12-1414 XXXXLE | $3.25 | |
| Polypro w/hood & boot, 5XL, 25/CS | saranex | 12-1414 XXXXXL | $35.50 | |
| Polypro w/h&b 25/CS 5XL, Each | saranex | 12-14145XLE | $3.25 | |
| Polypro w/hood & boot, Large, 25/CS | saranex | 12-1414L | $29.50 | |
| Polypro w/h&b 25/CS, Large, Each | saranex | 12-1414L/E | $2.50 | |
| Polypro w/hood & boot, XL, 25/CS | saranex | 12-1414XL | $29.50 | |
| Polypro w/hood & boot, XXXL, BLUE, 25/CS | Polypro | 12-1414XXXLB | $29.50 | |
| Polypro Bouffant Caps, 24″, 1000/bg | saranex | 12-10750 | $58.40 | |
| Micromax, w/hood & boot, Large, 25/CS | saranex | 12-CTL414L | $117.50 | |
| Micromax, w/hood & boot, XL, 25/CS | saranex | 12-CTL414XL | $117.50 | |
| Micromax, w/hood & boot, XXL, 25/CS | saranex | 12-CTL414XXL | $117.50 | |
| Shoe Covers, Polypro, 150 Pair/CS | saranex | 12-SHCV | $35.00 | |
| Shoe Covers, 150 Pair/CS, Polyethylene, XL | saranex | 12-SHCV-300B | $46.75 | |
| Polypro Boxer Shorts, XL100/CS | saranex | 12-SHORTS | $34.60 | |
| Polyfilm 12x400x1 | polyfilm | 15-1/12 | $35.00 | |
| Polyfilm 9x400x1mil | polyfilm | 15-1/9 | $25.00 | |
| Polyfilm 20x100x10mil | polyfilm | 15-10/20 | $129.00 | |
| Polyfilm 20x100x3mil | polyfilm | 15-3/20 | $36.60 | |
| Polyfilm 10x100x4mil | polyfilm | 15-4/10 | $26.00 | |
| Polyfilm 12x100x4mil | polyfilm | 15-4/12 | $40.00 | |
| Polyfilm 20x100x4mil | polyfilm | 15-4/20 | $47.50 | |
| Polyfilm 3x100x4mil | polyfilm | 15-4/3 | $11.00 | |
| Polyfilm, 8x100x4 mil | polyfilm | 15-4/8 | $20.20 | |
| Polyfilm 10x100x6mil | polyfilm | 15-6/10 | $37.80 | |
| Polyfilm 12x100x6mil – FR | polyfilm | 15-6/12FR | $86.40 | |
| Polyfilm 20x100x6mil | polyfilm | 15-6/20 | $67.20 | |
| Polyfilm 20x100x6 Flame Ret. | polyfilm | 15-6/20FR | $135.00 | |
| Poly 20x100x6mil Reinforced | polyfilm | 15-6/20RE | $142.00 | |
| Painter's Plastic, 12′ x 400′ | polyfilm | 15-PP | $22.50 | |
| Shrink Wrap | polyfilm | 15-SW | $19.25 | |
| Disposal Bags 33×50, 6 mil, 75/RL, Printed | bags | 20-3350/75 | $69.30 | |
| Disposal Bags 33×50, 6 mil, 75/RL, Unprinted | bags | 20-3350UN/75 | $69.30 | |
| Disposal Bags 38×63, 6 mil, 50/RL, Printed | bags | 20-3863/50 | $69.30 | |
| Disposal Bags 38×63, 6 mil, 50/RL, Unprinted | bags | 20-3863UN/50 | $69.30 | |
| Contractor Bags, 33×48, 3 mil, 20/box, Black | bags | 20-CBAG | $10.40 | |
| Mattress Bag – Full, 54″x9″x91″, 100/RL | bags | 20-MBF | $122.75 | |
| Mattress Bag – King, 81″x11″x98″, 40/RL | bags | 20-MBK | $116.75 | |
| Mattress Bag – Queen, 61″x9″x91″, 100/RL | bags | 20-MBQ | $137.50 | |
| Mattress Bag – Twin, 40″x9″x91″, 100/RL | bags | 20-MBT | $96.25 | |
| Plastic Bean Bags 23 x 39 | bean-bags | 21-PL Bags | $0.60 | |
| Glove Bag, 44 x 60, 25/RL | glove-bags | 25-4460/RL | $154.50 | |
| #133 Red, 2″, 24/Case | tape | 30-133R2 | $130.00 | |
| #133 Red, 2″, Each | tape | 30-133R2/E | $5.70 | |
| #133 Red, 3″, 16/Case | tape | 30-133R3 | $130.00 | |
| #133 Red, 3″, Each | tape | 30-133R3/E | $8.25 | |
| Double Sided Tape, 2″, Each | tape | 30-DST | $15.00 | |
| #260 Black Duct Tape, 2″, Ea. | tape | 30-MG260/2E | $4.25 | |
| Blue Painter's Tape, 2″, Each | tape | 30-PT2 | $5.75 | |
| Blue Painter's Tape, 3″, Each | tape | 30-PT3 | $7.50 | |
| RamBoard Seam Tape, 3″, Each | tape | 30-RST3 | $8.50 | |
| Spray Adhesive,12/CS | spray-adhesive | 35-SA | $33.75 | |
| North FF Resp Low Maint | respirators/masks | 40-5400 | $115.00 | |
| North FF Resp S/M | respirators/masks | 40-7600-8B | $148.00 | |
| North 1/2 Resp.-Large | respirators/masks | 40-7700-30L | $24.50 | |
| North 1/2 Resp.-Med | respirators/masks | 40-7700-30M | $24.50 | |
| North 1/2 Resp.-Small | respirators/masks | 40-7700-30S | $24.50 | |
| 3M Dust Masks, 8210, 20/bx | respirators/masks | 40-8210 | $16.25 | |
| N-100 Dust Mask, 3M #8233 | respirators/masks | 40-8233 | $8.25 | |
| 3M N-95 Particulate Mask | respirators/masks | 40-8511 | $20.00 | |
| Allegro Resp. Wipes 100/bx | cartridges | 41-1001 | $10.50 | |
| 3M HEPA Cart.,Cloth,2/PKG | cartridges | 41-2091 | $7.40 | |
| VeriFit Smoke Tubes | cartridges | 41-310N | $47.50 | |
| MSA Ultravue Tinted Lens,25/pk | cartridges | 41-480326 | $65.00 | |
| Sens. Smoke Test Kit | cartridges | 41-500 | $48.00 | |
| Sens Smoke Tube 6/Box | cartridges | 41-501 | $27.50 | |
| 3M OV/AG/HEPA Cart. (60923-P) | cartridges | 41-6001 | $19.50 | |
| 3M Organic Vapor/P100 HEPA Car | cartridges | 41-60921 | $11.50 | |
| 3M HEPA/OV Cart. | cartridges | 41-60923 | $19.50 | |
| North Banana Oil Fit Test | cartridges | 41-7002 | $0.00 | |
| 3M HEPA for 7300 Respir. | cartridges | 41-7090 | $4.80 | |
| 3M Org/Vap Cart 6/BX | cartridges | 41-7251 | $35.00 | |
| 3M HEPA Cart, 7255 (7090 NS) | cartridges | 41-7255 | $3.45 | |
| North Org/Vapor Cart | cartridges | 41-7500-1 | $5.40 | |
| North Filter Cover | cartridges | 41-7500-27 | $1.65 | |
| North OV/AG Cart | cartridges | 41-7500-3 | $6.10 | |
| North OV/Formaldehyde Cart | cartridges | 41-7500-5 | $5.15 | |
| North HEPA Cart P-100 | cartridges | 41-7500-8 | $3.95 | |
| North ORG/VAP HEPA Cart | cartridges | 41-7500-81 | $11.30 | |
| North ORG/VAP AG/HEPA | cartridges | 41-7500-83 | $11.40 | |
| North Prefilters, 10/PKG | cartridges | 41-7506N95 | $8.20 | |
| North P100 Pancake Nuisance | cartridges | 41-75FFP100NL | $9.60 | |
| North Defender Cartridge | cartridges | 41-75SCP100 | $11.50 | |
| North Head Strap Set (1/2 F) | cartridges | 41-7700-92 | $13.20 | |
| 3M Retainers 2/PKG | various-north-prod | 42-7288 | $3.15 | |
| North Inhale Valve, 6/PKG | various-north-prod | 42-7700-17 | $14.00 | |
| North Exhale Valve, 4/PKG | various-north-prod | 42-7700-18 | $16.50 | |
| North Tearstrips 15/pkg. | various-north-prod | 42-80836 | $21.50 | |
| Nikro 15 Gal. W/D, 2 H.P. | vacs | 46-1511WD | $670.00 | |
| Dustless 16 gal W/D HEPA Vac | vacs | 46-DHWDV | $485.00 | |
| Dustless 16 gal W/D Vac | vacs | 46-DWDV | $345.00 | |
| Nikro 2 gal Vac | vacs | 46-LV02 | $365.00 | |
| Nikro 10 gal Vac | vacs | 46-LV10 | $565.50 | |
| Nikro 15 gal Dry Vac | vacs | 46-PD15110 | $777.25 | |
| Pullman Holt HEPA Vac 15G | vacs | 46-PH102ASB | $695.00 | |
| Euroclean 930 HEPA Vac | vacs | 46-UZ930 | $425.00 | |
| Crevice Tool for UZ930 | vac-accessories | 47-010398 | $12.50 | |
| Euro 930 Motor Assbly | vac-accessories | 47-011576012 | $177.00 | |
| Euro UZ930 HEPA Filter | vac-accessories | 47-1282E1 | $135.00 | |
| HEPA Filter for Dustless Vac | vac-accessories | 47-13301 | $21.60 | |
| Euro Dust Bag Lock | vac-accessories | 47-1402022 | $6.75 | |
| Bayonet Fitting for UZ930 | vac-accessories | 47-1403846 | $0.00 | |
| UZ930 Handle Kit | vac-accessories | 47-1407800 | $26.50 | |
| Latches for UZ930 | vac-accessories | 47-1407832 | $16.50 | |
| Nikro 10 gal Disp. bags 6/pkg. | vac-accessories | 47-3390FB | $24.00 | |
| Nikro Filter Prot. 6/pkg. | vac-accessories | 47-3390FP | $17.00 | |
| Nikro HEPA for PW15110 | vac-accessories | 47-3390R2 | $247.00 | |
| Nikro 2 gal Disp. bags 6/pkg. | vac-accessories | 47-3390SB | $12.90 | |
| Nikro HEPA Filter | vac-accessories | 47-520006 | $175.00 | |
| Disposable Bags, Nikro 10 Gal | vac-accessories | 47-520033P | $15.00 | |
| Filter Prot., Nikro 6 Gal. | vac-accessories | 47-520035P | $13.00 | |
| Nikro Filter, Prot, 10 pkg | vac-accessories | 47-520038P | $25.50 | |
| Nikro Dacron Filter Bag 520210 | vac-accessories | 47-520210 | $27.00 | |
| Nikro Impact Filter | vac-accessories | 47-520316 | $34.00 | |
| Nikro Lg Impact Filter 10/pkg | vac-accessories | 47-520316P | $28.00 | |
| Nikro HEPA Vac, 2 gal | vac-accessories | 47-LV02 | $288.00 | |
| Nikro 2 gal Back Pack Vac | vac-accessories | 47-LV02BP | $499.00 | |
| Nikro Beater Bar | vac-accessories | 47-NBB | $63.50 | |
| Nikro Tool Kit, Plastic | vac-accessories | 47-PKW 200 | $111.00 | |
| Nikro 15 gal. w/d 1140 | vac-accessories | 47-PW15110 | $541.00 | |
| Euro UZ930 Col Bags 10/pkg | vac-bags | 48-1282FB | $19.95 | |
| Euro UZ930 Turbo Brush | vac-bags | 48-909112502 | $65.25 | |
| Dustless 16 gal Col Bags, 2/pk | vac-bags | 48-DL13141 | $19.95 | |
| Euro Combo Brush | vac-bags | 49-0113104 | $26.50 | |
| Euro Telescopic Wand | vac-bags | 49-0118130 | $53.50 | |
| Euro UZ930 Floor Tool | vac-bags | 49-1407087 | $51.00 | |
| UZ930 Snap Lock Kit | vac-bags | 49-1407832 | $17.50 | |
| UZ930 Foam Filter (for Motor) | vac-bags | 49-1515 | $0.00 | |
| UZ930 Filter Holder | vac-bags | 49-2911 | $0.00 | |
| UZ930 Lid w/ gasket | vac-bags | 49-7801500 | $0.00 | |
| Dustless Beater Bar | vac-bags | 49-DLBB | $81.00 | |
| Negative Air Machine 2000 CFM | neg-air/pressure | 50-A2000 | $825.00 | |
| Negative Pressure Recorder | neg-air/pressure | 50-MAN | $1,037.00 | |
| Neg. Pressure Recorder Paper | neg-air/pressure | 50-MANP | $6.75 | |
| Flex Duct 12″ Dia-Reg, 25 feet | flex-duct/layflat | 51-FD12 | $1.25 / ft. | |
| Flex Duct 8″ Dia-Reg, 25 feet | flex-duct/layflat | 51-FD8 | $0.90 / ft. | |
| Layflat Tubing 12″, 500 feet | flex-duct/layflat | 51-LFT12 | $0.10 / ft. | |
| HEPA Filter, 12x12x12 | filters | 52-12H | $94.50 | |
| Stage l Fil 13x13x.5 | filters | 52-13x.5 | $0.95 | |
| Stage II Wire Filters 13x13x2 | filters | 52-13x13 | $3.25 | |
| Stage I Filters 16x16x.5 | filters | 52-16x.5 | $0.90 | |
| Stage II Filters 16x16x2 | filters | 52-16x16 | $3.65 | |
| HEPA Filter, 24x24x12 | filters | 52-24H | $142.50 | |
| Stage I Fil 24x24x.5 | filters | 52-24x.5 | $0.95 | |
| Stage 2 Wire 24x24x2 | filters | 52-24x2W | $3.85 | |
| Shower Head for Disposacon | shower-stuff | 55-9000SH | $30.00 | |
| Shower Poles, (12/set) | shower-stuff | 55-9000SP | $40.00 | |
| Bath Towel Airlay 300/cs | rags/towels/soap | 57-BTA | $22.50 | |
| Bath Towel w/scrim. 300/cs | rags/towels/soap | 57-BTS | $25.50 | |
| Corrugated Paper Roll 36″x250′ | rags/towels/soap | 57-CPR | $73.50 | |
| Kraft Paper, 60# | rags/towels/soap | 57-KRAFT | $65.00 | |
| Kraft Paper, 40# | rags/towels/soap | 57-KRAFT 40 | $84.50 | |
| Rags-Heavy Cotton 25lbs/bx | rags/towels/soap | 57-Rag-25 | $32.00 | |
| Ram Board | rags/towels/soap | 57-RAM | $53.50 | |
| Rosin Paper | rags/towels/soap | 57-RP | $13.90 | |
| Body soap/shampoo, 1 Gal | rags/towels/soap | 57-SOAP | $9.75 | |
| Sontara Wipers, 1000/bag – Bl | rags/towels/soap | 57-SONTARA/B | $107.35 | |
| Sontara Wipers, 1000/bag – Wh | rags/towels/soap | 57-SONTARA/W | $111.85 | |
| Sontara Wipers, 500/bag – Wh | rags/towels/soap | 57-SONTARA/W5 | $55.10 | |
| Hi Volume Pump & tubing | pumps/rotometers | 60-9804 | $225.00 | |
| Sensidyne BDX 530 II | pumps/rotometers | 60-BDX 530/2 | $285.00 | |
| Stand for Hi-Vol Pump | pumps/rotometers | 60-STAND | $24.95 | |
| Nuclepore PCM .8/25mm | cassettes | 61-25/50N | $32.50 | |
| .37mm Cassettes-Lead | cassettes | 61-37/50 | $45.50 | |
| TEM Cassettes .45 Mixed Cellul | cassettes | 61-45/50 | $54.00 | |
| Airocell Cassette,37 mm 10/BX | cassettes | 61-AC10 | $95.00 | |
| Scapel Handle | scalpel/slides | 62-600113 | $4.75 | |
| Syringes | scalpel/slides | 62-600139 | $1.25 | |
| Cover Slip, 22X22, 1 ounce | scalpel/slides | 62-CS | $4.25 | |
| Microscope Slides, 1×3, 1 GR | scalpel/slides | 62-MSS | $6.95 | |
| Lead Dust Wipes, 150/bx | lead-dust-wipes | 63-800311 | $12.50 | |
| 54″ Broom Handle w/ Metal Thrd | mops/squeegies | 70-212602 | $5.65 | |
| Squeegee Handle 60″ | mops/squeegies | 70-21660-0 | $4.25 | |
| Push Broom Head 24 HD Red | mops/squeegies | 70-394240 | $17.15 | |
| Squeegee 22″ Sponge | mops/squeegies | 70-430220 | $21.00 | |
| Squeegee 30″ Sponge | mops/squeegies | 70-430300 | $21.50 | |
| 100) MM/Blade Dispenser-F | mops/squeegies | 704583 | $13.99 | |
| Buffer Pad, BLACK, 16″ | mops/squeegies | 70-485 Pad | $24.75 | |
| Mop Head, 24 oz. | mops/squeegies | 70-58004-0 | $5.40 | |
| Wire Brush 19 x 3 | brushes/sprayers/ | 71-1930 | $2.25 | |
| 16″ Black Circular Pads, 3M | brushes/sprayers/ | 71-3MCP16 | $44.25 | |
| HD Scrub Pads, 6×9, 20/pkg | brushes/sprayers/ | 71-450200 | $12.15 | |
| Wire Tooth Brush-Plastic | brushes/sprayers/ | 71-52081P | $1.50 | |
| Scrub Pad, 4 5/8 x10x1 Black | brushes/sprayers/ | 71-5x10x1 | $7.50 | |
| Scrub Pad, 4 3/8 x10x1 White | brushes/sprayers/ | 71-5x10x1W | $7.50 | |
| Extension Cord, 50′ | brushes/sprayers/ | 71-EC50 | $38.50 | |
| GFI, 15 AMP w/12′ cord | brushes/sprayers/ | 71-GFI15 | $17.50 | |
| GFCI, 2 outlets w/6′ cord | brushes/sprayers/ | 71-GFI2 | $38.95 | |
| 2 Gallon Sprayer | brushes/sprayers/ | 71-S2602 | $18.50 | |
| 3 Gallon Sprayer | brushes/sprayers/ | 71-S2603 | $32.00 | |
| 5-IN-1 Scraper | scrapers/staples | 72-5/1 | $7.75 | |
| Knife Blades 5/pkg | scrapers/staples | 72-BLADES | $0.75 | |
| Utility Knife Blades | scrapers/staples | 72-Blades 100 | $14.50 | |
| 8″ Floor Scraper Blade, H.D. | scrapers/staples | 72-C376 | $15.00 | |
| Scraper FLR w/Telesp. handle | scrapers/staples | 72-FC506 | $47.50 | |
| Scraper Blade, 8″, 5/pkg | scrapers/staples | 72-FC507 | $14.00 | |
| Utility Knife | scrapers/staples | 72-KNIVES | $3.95 | |
| Stapler, Arrow P-22 | scrapers/staples | 72-P22 | $19.95 | |
| Staples, P-22, 5/16″, 5050/BX | scrapers/staples | 72-P22S | $3.50 | |
| 4″ Scraper Blade (Personna) | scrapers/staples | 72-PB4 | $6.50 | |
| 4″ Scraper Repl Blades, 5/pkg | scrapers/staples | 72-SCB4 | $3.80 | |
| 4″ Scraper | scrapers/staples | 72-SCR4 | $5.50 | |
| Shovel, Round Point, 48″ | scrapers/staples | 72-SVLRP | $14.00 | |
| Round Blade Drain Spade | scrapers/staples | 72-SVLRS | $12.00 | |
| Asphalt scoop w/ D Handle | scrapers/staples | 72-SVLSC | $19.00 | |
| Stapler, Arrow T-50 Tacker | scrapers/staples | 72-T50 | $21.95 | |
| Staples, T-50, 1/2″, 1250/BX | scrapers/staples | 72-T505 | $3.95 | |
| Staples, T-50, 9/16″ | scrapers/staples | 72-T506 | $0.00 | |
| Tile Popper D-Handle | scrapers/staples | 72-TP63 | $53.50 | |
| Tile Popper Blade 3.5×7 | scrapers/staples | 72-TPB3 | $14.50 | |
| Tile Popper Blade, 5 x 7 | scrapers/staples | 72-TPB5 | $18.25 | |
| Vinyl Disposable Glove, Large, 100/BX | gloves | 75-2336L | $3.95 | |
| Vinyl Disposable Glove, Medium, 100/BX | gloves | 75-2336M | $3.95 | |
| Vinyl Disposable Glove, Small, 100/BX | gloves | 75-2336S | $3.25 | |
| Vinyl Disposable Glove, XL, 100/box | gloves | 75-2336XL | $3.95 | |
| String Knit Gloves, Large | gloves | 75-3403/10 | $0.50 | |
| Latex Gloves, Powder Free, Large, 100/box | gloves | 75-6205L | $8.40 | |
| Latex Gloves, Powder Free, Medium, 100/box | gloves | 75-6205M | $8.40 | |
| Latex Gloves, Powder Free, Small, 100/box | gloves | 75-6205S | $8.40 | |
| Latex Gloves Powder Free, XL, 100/box | gloves | 75-6205XL | $8.40 | |
| Brown Jersey Glove | gloves | 75-90BJG | $0.70 | |
| Nitrile Gloves, Powdered, Large, 100/box | gloves | 75-9205L | $11.50 | |
| Nitrile Gloves, Powder Free, Large, 100/box | gloves | 75-9205PFL | $11.50 | |
| Nitrile Gloves, Powder Free, Medium 100/box | gloves | 75-9205PFM | $11.50 | |
| Nitrile Gloves, Powder Free, XL 100/box | gloves | 75-9205PFXL | $11.50 | |
| Nitrile Gloves, Powder Free, XXL, 100/box | gloves | 75-9205PFXXL | $11.50 | |
| Nitrile Gloves, Powder Free, XL, 100/box | gloves | 75-9205XL | $11.50 | |
| Nitrile Glove, 8 Mil, Powder Free, Lg, 100/box | gloves | 75-9208PFL | $17.50 | |
| Nitrile Glove, 8 mil, Powder Free, Medium, 100/box | gloves | 75-9208PFM | $17.50 | |
| Nitrile Glove, 8 Mil, Powder Free, XL, 100/box | gloves | 75-9208PFXL | $17.50 | |
| Nitrile Glove, 8 Mil, Powder Free, XXL, 100/box | gloves | 75-9208PFXXL | $17.50 | |
| Double Dot String Gloves | gloves | 75-DDG | $0.80 | |
| Inspector Gloves, 12/Dz, White | gloves | 75-INSP | $3.60 | |
| Leather Palm Glove, Large | gloves | 75-LP | $2.10 | |
| Leather Palm Gloves, Ladies | gloves | 75-LPGL | $2.10 | |
| Leather Palm Gloves, Knit Wrist | gloves | 75-LPKW | $2.10 | |
| Nitrile Gloves, Green, #10 | gloves | 75-NIT | $1.50 | |
| Gloves, PVC #12 | gloves | 75-PVCA | $1.85 | |
| Boot-PVC-Steel toe-#10 | boots | 76-670303 | $16.50 | |
| Boot-PVC Steel toe#11 | boots | 76-670304 | $16.50 | |
| Boot-PVC-Steel Toe-#12 | boots | 76-670305 | $16.50 | |
| Boot-PVC-Steel toe-#13 | boots | 76-670306 | $16.50 | |
| DANGER Asbestos, Barrier Tape 3″x1000′ | signage | 78-BT46 | $14.50 | |
| DANGER Asbestos Barrier Tape 3″x1000′, White | signage | 78-BT46W | $14.50 | |
| DANGER Lead Barrier tape, 3″ x 1000′ | signage | 78-BTG3 | $16.25 | |
| Caution tape, 3″ x 1000′, Yellow | signage | 78-BTS | $14.50 | |
| Yellow-CAUTION DO NOT ENTER | signage | 78-CAUT | $15.00 | |
| Yellow-CAUTION DO NOT ENTER-Sp | signage | 78-CAUTS | $15.00 | |
| CAUTION LEAD Sign 14 x 20 | signage | 78-CLS | $0.50 | |
| CAUTION LEAD Sign-Spanish | signage | 78-CLSS | $0.50 | |
| CAUTION RENOVATION Sign 14 x 20 | signage | 78-CRS | $0.50 | |
| Danger – Mold/Microbial Sign | signage | 78-DMS | $0.50 | |
| DANGER Asbestos Signs 11×17 | signage | 78-DS | $0.50 | |
| DANGER Asbestos Sign-Spanish 11×17 | signage | 78-DSS | $0.50 | |
| Class 9 Label w/RQ, 500/rl | signage | 78-S-350 | $19.50 | |
| Heavy Duty Butyl Cleaner | chemicals | 80-101HD | $10.00 | |
| Fiberset PM | chemicals | 80-7470 | $10.40 | |
| Barrier Coat II, Lead Encap | chemicals | 80-BC2 | $43.50 | |
| EST Citrus Cleaner | chemicals | 80-CIT | $26.80 | |
| Citrikleen, Mastic Remover | chemicals | 80-CK5 | $46.30 | |
| CP 11 Encap — 1 Gal. | chemicals | 80-CP11/1 | $36.80 | |
| CP 11 Encap — 2 Gal. | chemicals | 80-CP11/2 | $63.67 | |
| Floor Sweep, 50# | chemicals | 80-FS50 | $24.50 | |
| Mold Encapsulant, IAQ 6000 | chemicals | 80-IPC5 | $49.50 | |
| Lead Block, 1 Gal. Pail | chemicals | 80-LEADB | $26.75 | |
| Mastic Remover – Low Odor | chemicals | 80-MR/5 LO | $12.25/per gal. | |
| Mastic Remover – Odorless | chemicals | 80-MR/5 OL | $17.35 | |
| Mastic Remover – Low Odor | chemicals | 80-MR/55 LO | $675.00 | |
| Oil Absorbent, 25 lbs./bag | chemicals | 80-OIL | $6.05 | |
| Mold Eradicator, Gallon | chemicals | 80-Q376 | $22.50 | |
| Tan Mastic Remover | chemicals | 80-TAN | $14.50 | |
| Wetting Agent | chemicals | 80-WA | $9.45 | |
| Safety Glasses, Starlite – Clear | glasses/ear-plugs | 85-310012 | $1.95 | |
| Safety Glasses – Tinted | glasses/ear-plugs | 85-310013 | $2.25 | |
| Goggles | glasses/ear-plugs | 85-310025 | $4.00 | |
| Ear Plugs, Max 30, 100/BX | glasses/ear-plugs | 85-EP | $19.35 | |
| First Aid Kit-25 Man | glasses/ear-plugs | 85-FA-25 | $19.95 | |
| First Aid Kit-25-Deluxe | glasses/ear-plugs | 85-FA-25DL | $29.65 | |
| Face Shield, Disp., w/ Drape | glasses/ear-plugs | 85-FS/DRAPE | $1.80 | |
| Moldex Earplug Station, 500 ct | glasses/ear-plugs | 85-MOL6645 | $70.00 | |
| Over-the-Glasses, Clear | glasses/ear-plugs | 85-S116 | $4.80 | |
| Over-the-Glasses, Tint | glasses/ear-plugs | 85-S117 | $5.30 | |
| Hard Hat w/Ratchet-White | hard-hats | 86-372003 | $8.50 | |
| Hard Hat w/Pin Susp. (White) | hard-hats | 86-A79 | $7.25 | |
| Fire Ext. 10 Lbs. ABC | hard-hats | 95-32871 | $45.00 | |
| RamBoard Door Jam, 60″ | window-jams | 98-RDJ60 | $6.95 | |
| Spray Bottles, 16 oz. | window-jams | 98-SB | $1.45 | |
| Sponges | window-jams | 98-SP | $0.20 | |
| Sealing Tape | window-jams | 98-ST | $2.80 | |
| Window Jam, 34″, 1 pair | window-jams | 98-WJ34 | $29.99 | |
| Window Jam, 38″, 1 pair | window-jams | 98-WJ38 | $29.00 | |
| Window Jam, 42″, 1 pair | window-jams | 98-WJ42 | $31.99 | |
| Window Jam, 46″, 1 pair | window-jams | 98-WJ46 | $32.99 | |
| Window Jam 48″, 1 pair | window-jams | 98-WJ48 | $0.00 | |
| Window Jam, 50″, 1 pair | window-jams | 98-WJ50 | $33.99 | |
| Window Jam 53 ", 1 pair | window-jams | 98-WJ53 | $0.00 | |
| Window Jam, 54″, 1 pair | window-jams | 98-WJ54 | $34.99 | |
| Window Jam, 58″, 1 pair | window-jams | 98-WJ58 | $35.99 | |
| Window Jam, 62″, 1 pair | window-jams | 98-WJ62 | $37.99 | |
| Window Jam, 66″, 1 pair | window-jams | 98-WJ66 | $44.99 | |
| Window Jam, 70″, 1 pair | window-jams | 98-WJ70 | $49.99 | |
| Window Jam, 74″, 1 pair | window-jams | 98-WJ74 | $54.99 | |
| Window Jam, 78″, 1 pair | window-jams | 98-WJ78 | $59.99 | |
| Window Jam, 82″, 1 pair | window-jams | 98-WJ82 | $64.99 | |
| Euro UZ930 8′ Hose | misc | 99-140278 | $32.50 | |
| Euro UZ930 Hose Assy | misc | 99-1402782-06 | $58.60 | |
| Hose End Assembly | misc | 99-140384600 | $37.50 | |
| Euro UZ930 Bumper (#44) | misc | 99-140388400 | $13.00 | |
| Euro UZ930 Bottom Plate | misc | 99-1404669 | $38.00 | |
| Hose End Bent | misc | 99-1405116 | $37.55 | |
| Euro UZ930 Hose Connector | misc | 99-140521 | $9.20 | |
| Face Shield Poly Carb Replace. | misc | 99-321002 | $2.85 | |
| Atlas Glove, Large | misc | 99-AGL | $2.95 | |
| Atlas Glove, Medium | misc | 99-AGM | $2.95 | |
| Atlas Glove, Small | misc | 99-AGS | $2.95 | |
| Atlas Glove, Thermal, LG | misc | 99-AGTL | $3.95 | |
| Atlas Glove, Thermal, Med | misc | 99-AGTM | $3.95 | |
| Atlas Glove Thermal, SM | misc | 99-AGTS | $3.75 | |
| Atlas Glove, Thermal, XL | misc | 99-AGTX | $3.95 | |
| Atlas Glove, X Large | misc | 99-AGX | $2.95 | |
| Cooling Bandanas | misc | 99-Bandanas | $2.00 | |
| Orange Safety Cone | misc | 99-CONE | $5.25 | |
| Traffic Cone | misc | 99-CONE18 | $11.98 | |
| Carpet Protect Runner36″x1000′ | misc | 99-CPR36 | $229.75 | |
| Carpet Protect Runner,36″x500′ | misc | 99-CPR36A | $158.00 | |
| Carpet Protect Runner – Value | misc | 99-CPR36V | $105.00 | |
| Doodlebug | misc | 99-DB | $12.25 | |
| Doodlebug Handle | misc | 99-DBH | $8.25 | |
| Ear plugs, 100PR – Corded | misc | 99-EAR100 | $26.50 | |
| Ear Plugs, 200/BX, Non-Corded | misc | 99-EAR200 | $24.50 | |
| Easy Mask, 48″ x 75 | misc | 99-EASY | $8.00 | |
| Fiber Barrels | misc | 99-FB | $4.00 | |
| Foam Rail Cross Bars | misc | 99-FR2 | $52.50 | |
| Grip Disk, 2/pkg | misc | 99-GD2 | $7.60 | |
| HD Zippers, 2/pk w/knife | misc | 99-HDZ2 | $19.25 | |
| LeadCheck Swabs – 8/kit | misc | 99-LCS8 | $24.90 | |
| ZipWall, Non-Skid Plate | misc | 99-NSP2 | $17.95 | |
| Poly Hanger #3, 100/BX | misc | 99-PH | $289.00 | |
| Ram Board Door Jam 60″ | misc | 99-RDJ60 | $6.95 | |
| Side Clamps for Zip Wall, 2/pk | misc | 99-SC2 | $48.50 | |
| SCBA, MSA, 30 Min. Tank | misc | 99-SCBA | $1,600.00 | |
| Shop Towels, Roll | misc | 99-SHOP | $2.10 | |
| Self-Leveling Concrete | misc | 99-SLC | $3.50 | |
| ZipWall Pole, 12′ | misc | 99-SLP-2 | $143.50 | |
| ZipWall 12 | misc | 99-SLP6 | $351.50 | |
| Sponge, 4×6, 3/PK | misc | 99-SP | $1.20 | |
| Sponge w/scrub pad, 5/PK | misc | 99-SSP | $2.60 | |
| Saftey Security Seal Blue | misc | 99-SSSB | $41.10 | |
| Saftey Security Seal, RED | misc | 99-SSSR | $41.10 | |
| Safety Security Seal Yellow | misc | 99-SSSY | $44.00 | |
| Swiffer Wet Cloths | misc | 99-SwifWet | $6.50 | |
| Tack Mats, 24″x36″, 30/pkg, 4/ | misc | 99-TACK24 | $70.00 | |
| Tack Mats, 24″x36″, 30/pkg, Ea | misc | 99-TACK24EA | $22.00 | |
| Tack Mats, 36″x36″, 30/pkg, 4/ | misc | 99-TACK36 | $105.00 | |
| Tack Mats, 36″x36″, 30/pkg, Ea | misc | 99-TACK36EA | $33.00 | |
| Zip Wall T-Clip | misc | 99-TC1N | $15.50 | |
| ZipWall,Tether, Head & Plate | misc | 99-TPH1 | $19.55 | |
| Safety Vest, Lg/XL | misc | 99-VEST | $7.25 | |
| ZipWall Kit, Four Pack-Plus | misc | 99-Zip | $289.00 | |
| 3″ x 7′ Zippers, 2/pkg. | misc | 99-ZIPPERHD | $17.50 | |
| 1 | misc | 99-ZIPPERSTD | $12.90 | |
| Zip Up Quick Release Pole | misc | 99-ZUQRP | $46.00 | |
| Ram Board, 38″X100′ | Floor Protection | 57-Ram | $53.50 | |
| Carpet Protector Runner, 36″ x 500′ | Floor Protection | 99-CPRV | $107.00 | |
| ZipWall Zippers, 2 per pkg | | 99-HDZ2 | $19.25 | |