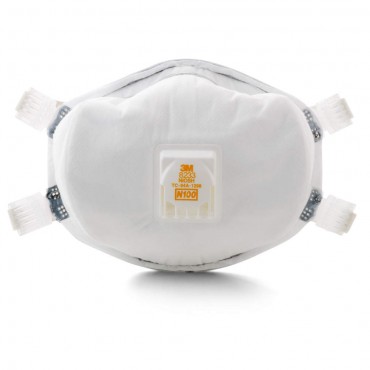 In the safety and environmental fields of work, respiratory protection can quite literally mean the difference between life and death. Many construction and work sites have harmful materials and chemicals that can become airborne. If your airways are left unprotected from these dangerous particles, serious repercussions can occur.
One commonly known illness is mesothelioma, a deadly cancer that is caused by asbestos inhalation.
At ABCO Supply, we carry half and full face respirators by the brand North to protect your lungs from airborne toxins and particles.
Find Products
| | | | | |
| --- | --- | --- | --- | --- |
| North FF Resp Low Maint | respirators/masks | 40-5400 | $115.00 | |
| North FF Resp S/M | respirators/masks | 40-7600-8B | $148.00 | |
| North 1/2 Resp.-Large | respirators/masks | 40-7700-30L | $24.50 | |
| North 1/2 Resp.-Med | respirators/masks | 40-7700-30M | $24.50 | |
| North 1/2 Resp.-Small | respirators/masks | 40-7700-30S | $24.50 | |
| 3M Dust Masks, 8210, 20/bx | respirators/masks | 40-8210 | $16.25 | |
| N-100 Dust Mask, 3M #8233 | respirators/masks | 40-8233 | $8.25 | |
| 3M N-95 Particulate Mask | respirators/masks | 40-8511 | $20.00 | |
| Allegro Resp. Wipes 100/bx | cartridges | 41-1001 | $10.50 | |
| 3M HEPA Cart.,Cloth,2/PKG | cartridges | 41-2091 | $7.40 | |
| VeriFit Smoke Tubes | cartridges | 41-310N | $47.50 | |
| MSA Ultravue Tinted Lens,25/pk | cartridges | 41-480326 | $65.00 | |
| Sens. Smoke Test Kit | cartridges | 41-500 | $48.00 | |
| Sens Smoke Tube 6/Box | cartridges | 41-501 | $27.50 | |
| 3M OV/AG/HEPA Cart. (60923-P) | cartridges | 41-6001 | $19.50 | |
| 3M Organic Vapor/P100 HEPA Car | cartridges | 41-60921 | $11.50 | |
| 3M HEPA/OV Cart. | cartridges | 41-60923 | $19.50 | |
| North Banana Oil Fit Test | cartridges | 41-7002 | $0.00 | |
| 3M HEPA for 7300 Respir. | cartridges | 41-7090 | $4.80 | |
| 3M Org/Vap Cart 6/BX | cartridges | 41-7251 | $35.00 | |
| 3M HEPA Cart, 7255 (7090 NS) | cartridges | 41-7255 | $3.45 | |
| North Org/Vapor Cart | cartridges | 41-7500-1 | $5.40 | |
| North Filter Cover | cartridges | 41-7500-27 | $1.65 | |
| North OV/AG Cart | cartridges | 41-7500-3 | $6.10 | |
| North OV/Formaldehyde Cart | cartridges | 41-7500-5 | $5.15 | |
| North HEPA Cart P-100 | cartridges | 41-7500-8 | $3.95 | |
| North ORG/VAP HEPA Cart | cartridges | 41-7500-81 | $11.30 | |
| North ORG/VAP AG/HEPA | cartridges | 41-7500-83 | $11.40 | |
| North Prefilters, 10/PKG | cartridges | 41-7506N95 | $8.20 | |
| North P100 Pancake Nuisance | cartridges | 41-75FFP100NL | $9.60 | |
| North Defender Cartridge | cartridges | 41-75SCP100 | $11.50 | |
| North Head Strap Set (1/2 F) | cartridges | 41-7700-92 | $13.20 | |
| 3M Retainers 2/PKG | various-north-prod | 42-7288 | $3.15 | |
| North Inhale Valve, 6/PKG | various-north-prod | 42-7700-17 | $14.00 | |
| North Exhale Valve, 4/PKG | various-north-prod | 42-7700-18 | $16.50 | |
| North Tearstrips 15/pkg. | various-north-prod | 42-80836 | $21.50 | |
Breathe Easy
For more information about our respiratory protection, call us in Kansas City, KS, at (913) 321-4100 today.
Contact Us Today