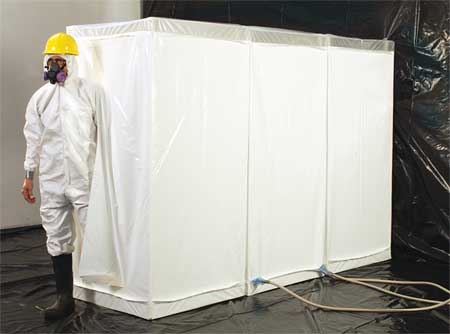 At ABCO Supply of Kansas City, we understand the importance of ridding the body of all potentially harmful chemicals before going home to loved ones or to the tavern for a few beers. Don't bring asbestos or lead out of the workplace. Invest in showers and shower materials.
We proudly stock three way disposable shower enclosures for you to bring to job sites to avoid spreading dangerous substances. These convenient and portable showers include a "dirty" side to remove your contaminated workwear, then a shower, and then a "clean" side to put on a fresh set of clothing.
We also offer scrim towels and water filtration systems.
Find Products
| | | | | |
| --- | --- | --- | --- | --- |
| Shower Head for Disposacon | shower-stuff | 55-9000SH | $30.00 | |
| Shower Poles, (12/set) | shower-stuff | 55-9000SP | $40.00 | |
Keep Clean
For more information about our showers and shower materials to prevent the spread of asbestos, call us at (913) 321-4100 today.
Contact Us Today